Mandalay Division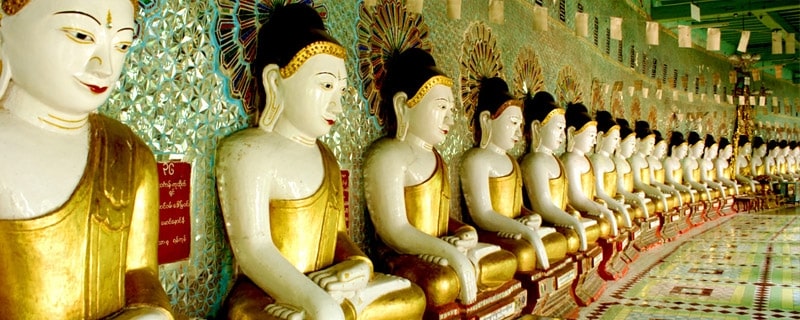 It is situated about 600 kilometers north of Yangon on the Ayeyarwaddy river. It is Myanmar's second largest city and was the royal capital of the last monarchy of Myanmar ( Burma ). It enjoys the splendor of the golden age and still has great importance as a cultural center. The palace was constructed in 1857 in Myanmar traditional architectural styled.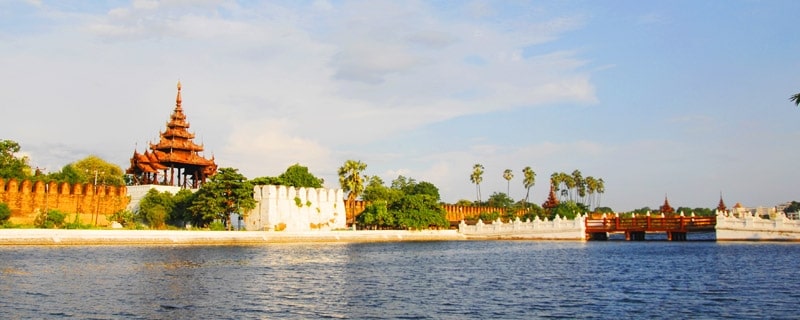 The city was completely damaged in the fierce fighting of World War II, including the royal palace, which has been reconstructed. Mandalay is best known not only for it's rich traditional, cultural and spiritual splendor but also exquisite handicraft such as hand-woven embroidery in silk and cotton, the incredible process of making gold leaves, wood and stone carving and bronze casting etc. the river jetties at Mandalay are beehive of activity with small boats going up and down the river, bamboo rafts and cargo boats with huge logs from the teak forests upriver. The water buffaloes are the along the riverbank. Mandalay is now Myanmar's second largest city, with a population of approximately one million. There are several ancient capitals around Mandalay such as Amapura, Sagaing, Ava, Mingun where Kongboung dynasty kings established their capitals respectively.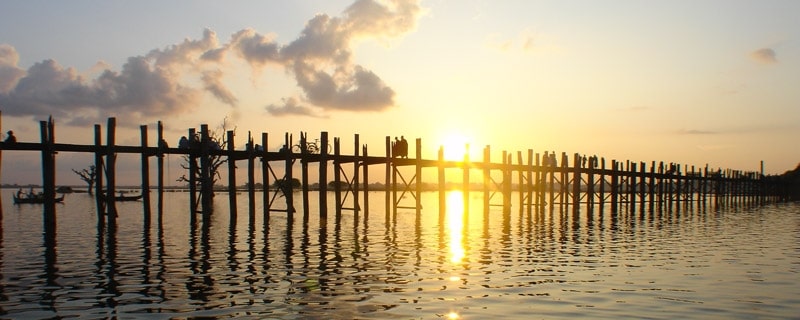 Mandalay Hill
The hill has for long been a holy mount and the legend says that the Buddha on his visit had prophesied that a great city would be founded at its foot. Mandalay Hill, 230 metres in elevation, commands a magnificent view of the city and the surrounding countryside.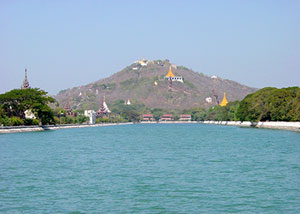 Mandalay Palace
The grand palace complex was reduced to ashes during World War II. Majestic palace walls, city gates superimposed by pavilions and the surrounding moat are standing evidences showing how grand was the former palace. Myanansankyaw Golden Palace, a replica of the old palace, Nanmyint-saung, Cultural Museum and Pyigyimon Floating Restaurant in the moat can be seen within the perimeter of the palace. Admission fee is US $ 5.00.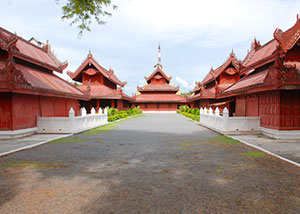 Shwenandaw Monastery
This monastery is famous for its intricate woodcarvings and is reminiscent of old Mandalay Palace. In reality, the monastery was first located within the precinct of Mandalay palace. It was reconstructed at the present site in 1880 under the orders of King Thibaw.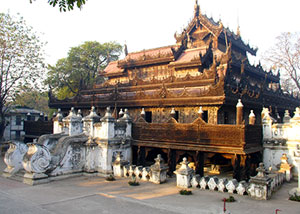 Mahamuni Pagoda
Mahamuni Pagoda is revered as the holiest shrine in Mandalay. King Bodawpaya built it in 1784. The Mahamuni Image brought from Rakhine State is being housed there. The devotes crowd there to watch early morning ritual of washing the face of the Buddha Image.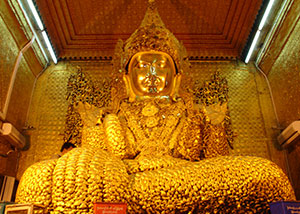 Kuthodaw Pagoda
Kuthodaw Pagoda was built by King Mindon in 1857. The shrine is surrounded by 729 upright stone slabs bearing the entire Buddhist scriptures. It is popularly known as " The world's Biggest Book " for its stone scriptures.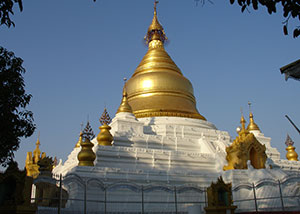 Arts And Crafts
The largest repository of Myanmar arts and crafts can be found in Mandalay. Lovers of arts and crafts will certainly enjoy them. It is here that visitors can observe skilled craftsmen make beautiful articles of ivory, wood, marble and stone, silverware and bronze statues, world famous tapestry, silk weaving and gold-leaf making according to the time-honored traditions of their fore-fathers.
---
Mandalay & Surrounding
Inwa ( Ava)
Inwa, Located across Myitnge River about 20 kilometers southwest of Mandalay is the capital of Burmese Kingdom for nearly 400 years. All the major buildings, which were not destroyed during the earthquake of 1838, had been transferred first to Amarapura and then to Mandalay however the 88 feet high watchtower known as the "leaning tower of Ava" and Bargaya teak monastery which is famous for it's teak pillars amounting to 267 in total are still to be seen today.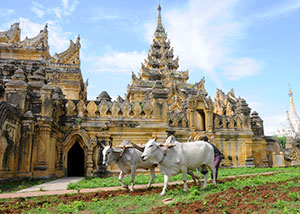 Amarapura
Lies on the left bank of the Irrawaddy River. A suburb of Mandalay, there has numerous silk weaving. Founded by King Bodawpaya in 1783 as his new capital. Amarapura means City of Immortality.
Famous with its longest teak bridge take bridge in the world; although a bit rickety in some parts it has withstood the storms and floods of over two centuries. The bridge is named after its donor U Bein, 1.2 km long Wooden Bridge, built since 1782 with over 1700 huge teak pillars. There are five rest houses on the bridge where you can rest for a while and chat or read.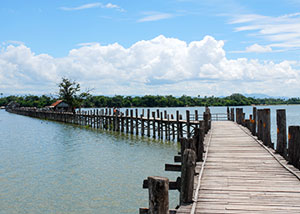 Sagaing
Sagaing lies 21km south-west of Mandalay on the west bank of the Ayeyarwady River. Sagaing became the capital of an independent Shan kingdom around 1315 after the fall of Bagan. Today, Sagaing is known as a meditation center. "A living center of Buddhist faith" lies across Ayeyarwaddy River is an important religious center with some 600 Buddhist pagodas, temples and monasteries. Myanmar's all over the country would visit Sagaing for the purpose of religious retreat.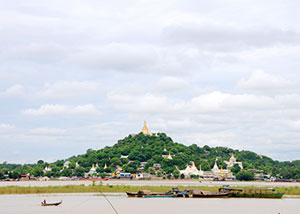 Mingun
Located across majestic Ayeyarwaddy River approximately 12 kilometers north of Mandalay. Mingun today hosts the world second largest ringing Bell of 90 tons in weight and unfinished pagoda to go with it. Mingun payagyi was dedicated to being the world largest monument however which today stood to be the world largest brick pile. It is reached by ferryboats across the river and takes 1 hour for up-river and 40 minutes for down-river. A boat trip to Mingun is pleasant with plenty of life on the river to see.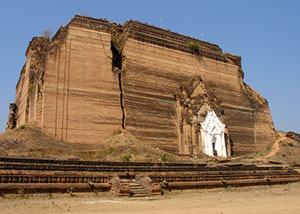 Monywa
A picturesque town on the Chindwin River, Monywa is known a typical unspolit Myanmar ( Burma ) town and it is only a three hours drive from Mandalay. On the way to Monywa and before you reach the town there is an unusual Buddhist temple complex on 37 acres of land called Mohnyin Thanboddhay. Monywa also famous for its Po Win Taung ( Mt. Po Win ), Mt. Shwe Ba where the entire mountain was carved into caves, niches, staircases, and Buddha Images. It is similar in architectural design to the Borobodur, a famous ancient pagoda in Indonesia.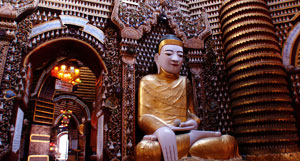 Mogok (the Ruby Mine)
Known as Land of Ruby, Mogok is in the Mandalay Division, lies 1170 meters above sea level. Royalty throughout the world has sought Mogok rubies and sapphires for many centuries. Alluvial limestone gravels are the source, and deposits are exploited by means of tunneling, pit digging or panning. Other precious and semi-precious stones found in Mogok District include period, lapis lazuli, moonstone, garnet and chrysoberyl.
Rubies and sapphires are Mogok's lifeblood, and several markets around dispense the red and blue crystals on a rotating basis depending on the time of day. Mogok is a 3-hour drive from Mandalay. From the main bus center in Mandalay there are departures every half hour from 6 am to 9:30 am. Although it is an interesting place, for every foreign visitors/ traveler need to get the permission well in advance because of restricted area.
"Travel to Mogok is now Temporary closed until further notice. Once the route is open, we will keep all informed"
Myanmar Cruise
Our Popular Tour Packages
Describe here popular tours
---
---