Inle Lake (Nyaungshwe)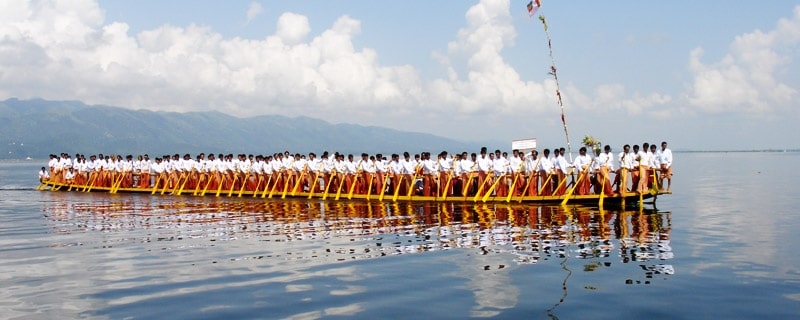 The second largest natural lake in Myanmar located in the middle of the greatest depression in Nyaungshwe valley between the two parallel mountain ranges running north to south in the southern Shan State. This vast picturesque lake, 900 meters above sea-level is one of the main tourist attractions in Myanmar. The lake, 22 km long and 10 km across, has a population of some 150,000, many of whom live on floating islands of vegetation. Inle Lake, natural and unpolluted, is famous for its scenic beauty and the unique leg-rowing of the Inthas, the native lake dwellers.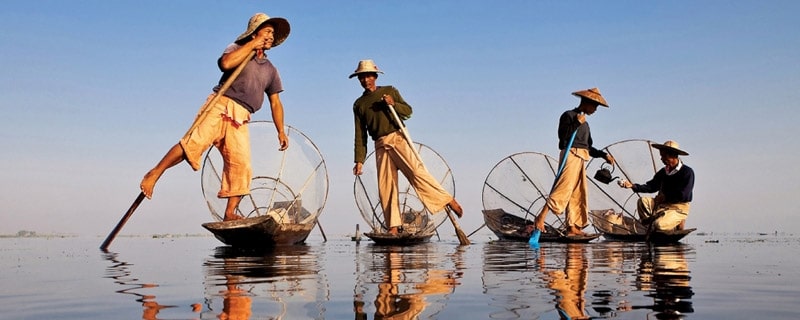 The place we cannot miss in our itinerary is the scenic beauty of Inle Lake so at least a one-night or two nights stay is strongly recommended. A second night is required for those wishing to visit Pindaya Cave, which is also memorable. For those with time, extra nights allow for visits and trek to Inle Lake and Kalaw surrounding.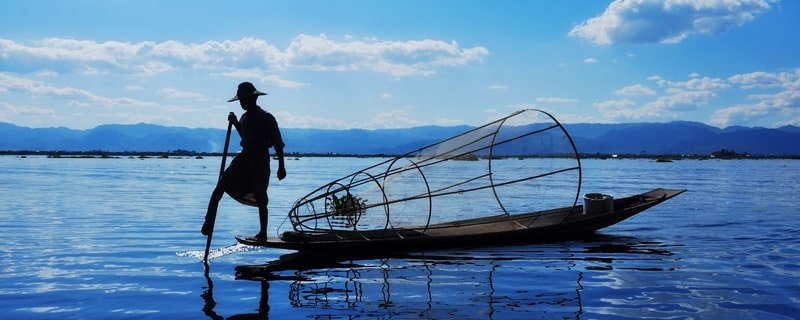 Kalaw
Kalaw stands high on the western edge of the Shan Plateau. It is 61 km from Inle, This was a popular hill station in the British days and it is still a peaceful and quiet place. At an altitude of 1320 m it is also pleasantly cool and a good place for hiking, bamboo groves and rugged mountain scenery. You can make interesting excursions around Kalaw. The main attraction of Kalaw is the town itself, with its mock-tutor colonial bungalows, its ethnic mix of people, and it's setting within trekking distance of many ethnic minority villages.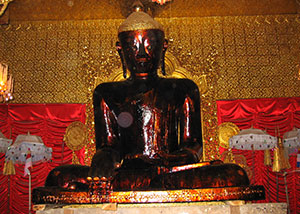 Pindaya
Pindaya is a small beautiful town perched on the bank of the palcid Botoloke Lake. Pindaya cave is a huge cavern where hundreds and thoundsands of Buddha images in various size and shape are installed since the 11th century. The winding galleries and nooks and corners are ideal places of meditation since the olden days.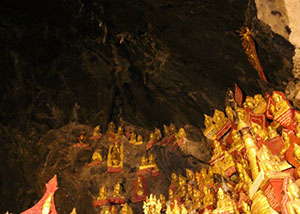 Taunggyi
Taunggyi, the capital of Shan state is known for its scenic beauty and pleasant climate. It is cool the whole year round and the area is colourful with lovely flowers, pine trees and green orchards. Being situated over 1400 metres above sea-level, Taunggyi is ideal for holiday-makers during the summer. Taunggyi Museum It is an ethnographic museum which contains colourful dress of national groups, their traditional weapons and utilities in addition to the dress of the late Shan Sawbwars (Dukes or Lords). Open from 9:30 to 15:30 except Saturday and Sunday.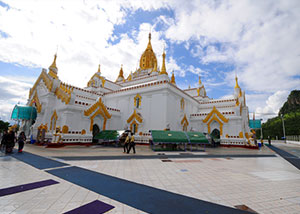 Taunggyi Museum
It is an ethnographic museum which contains colourful dress of national groups, their traditional weapons and utilities in addition to the dress of the late Shan Sawbwars (Dukes or Lords). Open from 9:30 to 15:30 except Saturday and Sunday. re advised to check with our tour agency for flight, train, bus and steamer schedule. Neighbouring Towns of Taunggyi
Myanmar Cruise
Our Popular Tour Packages
Describe here popular tours
---