Myanmar's Scenic Splendour


Destination: Standard Program ( Yangon – Bagan – Mandalay – Mingum – Sagaing – Inle Lake )
Duration: 11 Days
---
DAY 01: Arrival Yangon
DAY 02: Yangon – Bagan ( AM flight)
DAY 03: Free day in Bagan
DAY 04: Bagan – Mandalay
DAY 05: Mingun – Sagaing
DAY 06: Free Day in Mandalay
DAY 07: Mandalay – Heho – Pindaya – Nyaung Shwe (Inle Lake)
DAY 08: Nyaung Shwe (Inle Lake)
DAY 09: Free Day in Inle Lake
DAY 10: Indian – Heho – Yangon
DAY 11: Yangon Sight-seeing Departure
Day 01: Arrival Yangon – Meal (None)
Meet with our guide who will greet you with a pack of welcome gift which includes a small souvenir, Myanmar Map and some stamped postcards of Myanmar's sceneries. On the way to downtown, the first thing you will notice is the very clean and beautiful tree-lined roads and the well-groomed Inya Lake. Then you will realize why Yangon deserves the name " Garden City of The East ".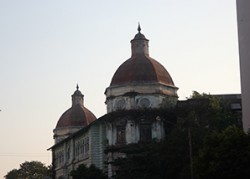 Here we would like to reserve enough time for you to take a good rest that you may need after a long tedious flight. So, sightseeing in Yangon is postponed to the day before departure that you will enjoy the whole day.
---
Day 02: Yangon – Bagan (AM flight) – Meals (B)
Bagan. Fasten your seat belt! You are on board of the time machine flying back to the 9th Century!
Meet with our guide on arrival and then drive to the archaeological zone to see an incredible panoramic view of Bagan, after that, going to the morning market to see local activities. Later to Shwezigon Pagoda a prototype of later Myanmar stupa by sandstone and you can learn how the people of Bagan changed from Animist to Buddhist since in 11th century. Then going to Wet-gyi-in village to see Gubyaukkyi Temple with fine mural paintings of Jataka scenes.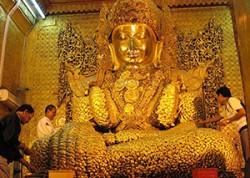 After that transfer to hotel for check-in.
Afternoon sightseeing tour continues with visits to lacquerware industry where you get to appreciate the real meaning of " Hand Made". All the small details are drawn free hand and it takes months to finish a small item but years for a large one. You won't really appreciate the workmanship until you see how they do it! We proceed to Manuha Temple with gigantic Buddha images, a captive king's impression of life in prison; Nanpaya, an Early-style temple with the finest stone carvings.
In the evening, visiting the Ananda Temple, which is famous for the smile of 11th century standing Buddha and architectural masterpiece resembling a Greek Cross and then going to a nice place for sunset. Return to hotel and overnight at hotel.
Note;( Although it has spots lights installed in the temples, it is advisable to bring your own torchlight to see mural paintings and stone carvings in details..)
---
Day 03: Free Day in Bagan – Meal (B)
Bagan is a perfect place to do your own exploration. So we leave you to be on your own today. Take a Bike or Horse cart or simply just walk. Bagan is always amazing!
Optional tours for Bagan
Of cause, we are always at your service in case you want to use our services today. These tours are not inclusive of the price so please inform us in advance if you want to take one of them.
Tour 1: Sunrise Champagne Balloons flights over century old Pagodas.
Tour 2: Visiting local villages, Phwa Saw village to see how the village is benefiting from to its community-based Tourism activities.
Tour 3: Photo tours with our expert photo guide. Just after the rainy season, October and November are the best time to take the photo in Bagan and surrounding.
Tour 4: Day trip to Mt, Popa to enjoy the beautiful scenery and on the way back to visit the families who make jaggery from Toddy palm.You can even sample the toddy beer if you are adventurous enough!
Tour 5: Day return trip to Salay- Popa trip. Salay is famous for Yoke Sone Kyaung because of its thousands of detailed carvings telling the history of Buddha's life.
Tour 6: Cooking class and lunch with a local family.
Tour 7: Day return trip to Pakhokeku for sightseeing and sunset boat ride in Ayerwaddy river
---
Day 04: Bagan – Mandalay – Meal (B)
After breakfast, transfer to Nyaung U airport to Mandalay. Meet with our guide and then proceed to city centre of Mandalay.( Mandalay was the last capital for Burmese kings, it is still an important city for trading with China and is well known for a variety of handicrafts like stone carving, wood carving, bronze casting, embroidery, silk and weaving.)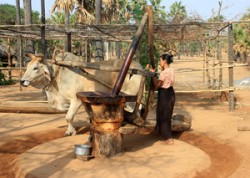 Check in to the hotel, after a short visit to Gold foil making workshop on the way.
After refreshment, sight-seeing begins with Shwenandaw Monastery, an original building of King's palace which is famous for exquisite wood carvings. Then, visit to Kuthodaw Pagoda, known as the World's Biggest Book for its stone slabs of Buddhist scriptures. And then continues to Mandalay Hill, a vantage point for a panoramic view of the city and a spectacular sunset view. Going up-hill by car ( by truck for groups ) and then escalator /elevator to a vantage point for a panoramic view of the city and spectacular sunset view. For the one who likes walking, it is worth to have a stroll up the hill enjoying the panoramic view from different angles. Return to hotel and overnight at hotel.
---
Day 05: Mingun – Sagaing – Meal (B)
After breakfast, transfer to jetty for Mingun excursion. This 50 minutes upstream boat ride in a private boat on Ayeyarwady River brings us to see the world biggest ringing bell, Mingun Bell and the biggest unfinished pagoda, Pahtodawgyi pagoda from the 19th century. Mingun is a peaceful town with friendly locals and you can ride an ox-cart as a local taxi just for fun. The short walk from Mingun jetty to Mya TheinTan pagoda is full of local activities and this is a good place to shop paintings and souvenir. You can enjoy local tea, cold drinks and Myanmar tempura also at one of the shops.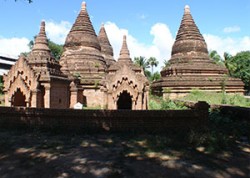 Then drive to Sagaing, visiting silk weaving on the way and some cottages industries including Silversmith which is the famous one in Myanmar. Later proceed to Sagaing Hill one the bank of the river, which is almost all covered by religious buildings like the monastery, meditation centre, nunnery. We can visit some of them and then enjoy the panoramic view of the Ayerwaddy river from the top of the hill. Then, head to Amarapura, and watching the sunset at U Bein's bridge which is the longest Teak bridge in the world. Drive back to Mandalay and overnight at hotel.
---
Day 06: Free Day in Mandalay – Meal (B)
Today is a free day so you can explore Yangon with your own pace or you can just relax at the hotel to enjoy your holiday with full privacy.
Optional tours for Mandalay
We have some optional tours in case you want to use our services today. These tours are not inclusive in the price so please inform us in advance if you want to take one of them.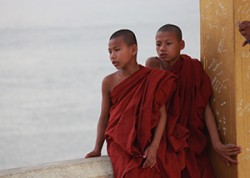 Tour 1: Day return trip or 2 days one night trip to see the fishing village Myin zun ( Here we will look out for the Ayarwaddy Dolphins and learn how they work together with local fishermen and share the catch with each other )
Tour 2: Day return trip to the beautiful hill station of former British administrative, Pyin Oo Lwin (Maymyo) to see colonial buildings and Kandawgyi Botanical Garden.
Tour 3: Day return trip to Hsithe village to see the lifestyle of villagers and fishermen. If you want us to arrange it please let us know through with our escort to contact you.
---
Day 07: Mandalay – Heho – Pindaya – Naung Shwe (Inle Lake) – Meal (B)
After breakfast, transfer to airport for flight to Heho. Drive over an hour passing colorful land which is covered by farms of potato, ginger, wheat, orange, cabbage, peas, cauliflower, carrot, etc…. and villages of Pa-O tribes to the small quiet town Pindaya, along the way, sometimes you can see some kids on water buffalo.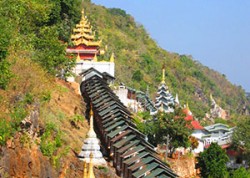 You will be surprised to see how these fierce looking animals can be good friends with the kids and how they can tolerate those playful kids. Actually, Pindaya is the peaceful town of Danu tribes, 48 km north of Kalaw. Pindaya cave is well-known for its countless Buddha images of different sizes. Visiting local families who are making bamboo parasol, handmade paper, bamboo hats and clay toys.
Afternoon drives around two hours to Nyaung Shwe where Inle Lake is situated. Check-in and overnight at Hotel.
---
Day 08: Nyaung Shwe (Inle Lake) – Meal(B)
After breakfast at the hotel, explore Inle Lake (the jewel of Shan State). On the way, we can see the morning floating market at He Ya Ywa Ma Village if the day we arrive falls on the scheduled market day. Inle Lake locates 875 meters above the sea level and is only place you can see unique leg-rowers and floating gardens which are made from lake weeds and mud. During the lake tour, you can enjoy the scenic beauty of the lake, fishing canoes using special methods for fishing and collecting seaweed, lakebed mud to make floating gardens. We will also see a lot of floating gardens on the way to the visit of Nga Phe Chaung monastery (also known as Jumping Cat monastery ).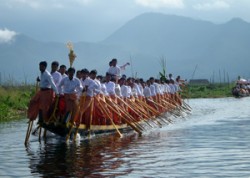 After that, going to visit the Cheroot making place and carpenter's workshop to see how they built a boat. Silk weaving and making lotus fabric of Inle of Inpawkhone village is so popular that you should not miss to see them. In the late afternoon, visit the most famous Paungdaw Oo Pagoda. Return to the hotel and overnight at hotel.
---
Day 09: Free Day in Inle Lake – Meal (B)
Today is a free day so you can explore the surrounding of Inle lake with your own pace or you can just relax at the hotel to enjoy your holiday with full privacy.
Optional tours for Inle Lake
We have some optional tours in case you want to use our services today. These tours are not inclusive of the price so please inform us in advance if you want to take one of them.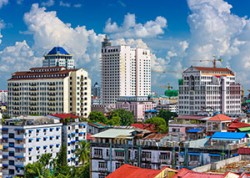 Tour 1: Morning balloon ride to see the sunrise and the panoramic view of Inle Lake
Tour 2: Three days/ two nights trip to Loikaw( Kayah State), to see the colourful tribes. The boat from Inle lake will bring you to another beautiful lake called Phekhone lake and then proceed by car to Loikaw so you will have a chance to enjoy the picturesque views of both the lakes and mountains.
Tour 3: Day return trekking to Tha Le Oo village to see the farm of garlic and Mine Thauk village
Tour 4: Day return trip to Taung Gyi and Kakku
Tour 5: Cooking Class and lunch at Viewpoint Lodge
---
---
Day 10: Indian – Heho – Yangon – Meal (B)
After breakfast, start the excursion to Indein, the hidden treasure of Inle. You can enjoy an exciting boat ride in the narrow waterway taking the photo of kids and buffalos swimming nearby and be prepared to be amazed by the spectacular view of more than 1,500 weather-beaten pagodas standing on the hilltop. You can also enjoy the panoramic view of the Inle lake from here. On the way back, we walk a short distance to enjoy the peacefulness of the place with a bamboo forest and talk to some friendly villagers. After that, its time to go to Heho airport for your flight to Yangon.
Meet with our guide at Yangon airport and transfer to hotel and overnight at hotel.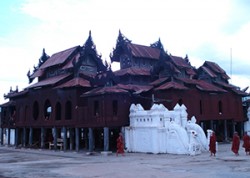 ---
Day 11: Yangon Sight-seeing Departure – Meal (B)
After breakfast, meet with our guide and start our tours at the city centre where you will see how people of different faiths and cultures live together in harmony and peace for centuries. From afar, you can spot a pagoda shinning with pure gold plates on, that is the 2000-year-old Sule pagoda. Just beside it, you can see the beautiful Bengali Sunni Jameh Mosque and then on the other side is the Immanuel Buptist church which was built in 1885. Then two minutes away by walk, you will reach the Ganesha Hindu Temple. Last but not least, the 120 years old Musmeah Yeshua Jewish Synagogue is about 5 minute's walk from Sula Pagoda.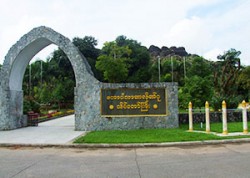 By viewing Yangon City Hall, we can learn the mixture of Burmese and Western architecture, it is facing to the Independent Monument which stands gracefully in the Mahabandoola Park, where Yangoners gather for relaxation and festivals and events. Next, to the park, you can see the eyes catching Victorian style red building, the Supreme Court.
Continue exploring along the colonial area, there are many huge buildings by different architecture like Render House, Economic Bank, the office of Inland Water Transport, the District Court of Western Yangon, Myanmar Port Authority and the Custom House. The Strand Hotel and the General Post Office can be also seen along the Strand road. And then, on up north, you can see the oldest Armenian church from 1863, the Secretariat and St. Mary Cathedral of 1911.
After that, going to Kandawgyi lake, walking on the wooden bridge to see the panoramic view to the glittering Shwedagon and Karaweik hall reflection on the lake.
In the late afternoon, head to the Shwedagon Pagoda which is covered with tons of gold blocks (not gold leaf ) and thousands of diamonds and other precious stones. Visiting Shwedagon is not just to see the tradition, belief and custom but to enjoy the real life of locals like sellers of flowers, birds ' food, fortune tellers, families and friends praying etc. After the sightseeing, head to the airport for your international flight.
Note; ( Bogyoke market is closed on Monday and gazette holidays)
Selected hotels:
Deluxe class hotel
Superior Class hotel
Standard Class hotels
Service Includes
Accommodation with Breakfast at Twin/Double room
Domestic airfares
Transfer & Sightseeing with Private A/C coach or car
Entrance fees
English speaking station guide fees
Express boat from Mandalay – Bagan
Boat fees
Airport pre check in for international flight.
Service Excludes
Visa fees for Myanmar
Meals (Lunch & Dinner)
International flights
Beverages
Drinks, tips and personal expenses
Any other item not mentioned in service includes
Low Season (From 1st May 2015 to 30th September 2015)
| | | | | | |
| --- | --- | --- | --- | --- | --- |
| No. of Guests | 2 Guest | 3-4 Guest | 5-6 Guest | 7-14 Guest | 15 Guest+1FOC |
| Price per person in USD | | | | | |
High Season (From 1st October2015 to 31st March 2016)
| | | | | | |
| --- | --- | --- | --- | --- | --- |
| No. of Guests | 2 Guest | 3-4 Guest | 5-6 Guest | 7-14 Guest | 15 Guest+1FOC |
| Price per person in USD | | | | | |
**Please feel free to contact us for any further assistance by click Here. **
Popular Destinations in Myanmar
Myanmar Cruise
---