Sanctuary Ananda Cruise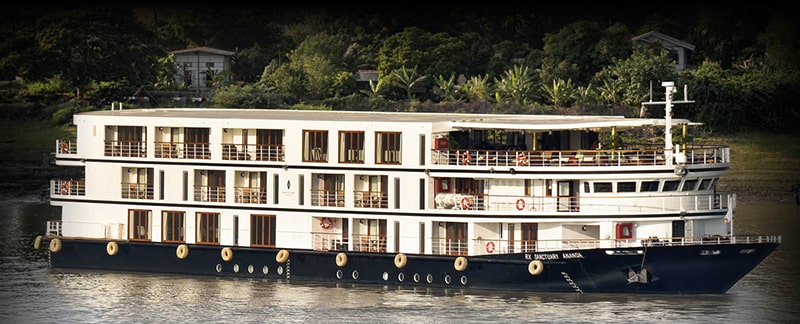 Sanctuary Ananda is custom built by local craftsmen using traditional materials while offering sleek contemporary luxury. Sanctuary Ananda set sail on the Myanmar Rivers in November 2014 and offers 20 spacious suites on three decks, the luxurious Owner's suite, a sundeck with an outdoor pool and the Kansi panorama lounge.
Our luxurious all suite ship will take you in style on voyages of breathtaking beauty and discovery on the mysterious rivers of Myanmar (Burma). You'll visit the majestic Ayeyarwaddy between Bhamo and Yangon visiting temples, pagodas, palaces and monasteries along the way, while journeys on its great tributary, the Chindwin, will take you to places visitors rarely see – through the jungles of the north, forgotten villages, and ancient towns almost to the Indian border.
CABINS AND SUITES
Sanctuary Ananda is a perfect combination of local culture and luxury, because we understand that even when you are immersing yourself in a new experience, there are some things you should never be without, such as a large comfortable bed, the pleasure of a good drink, excellent food, immaculate service, and the company of like-minded people.
Custom-built with just 21 suites, Sanctuary Ananda showcases original Burmese design and contemporary chic in an atmosphere of five-star comfort. In every suite, lush silks, polished teak and beautiful lacquerware celebrate Myanmar's rich heritage of arts, crafts and textiles and Malaika Egyptian-cotton sheets ensure that we make you as relaxed as can be. Expect L'Occitane-stocked ensuite bathrooms, individually controlled air-conditioning and an iPad with free WiFi (coverage limited outside of main cities of Mandalay & Bagan) – and, naturally, consummate craftsmanship throughout. Choose from having a double or twin bed, and look forward to your own relaxing space to lounge in – every suite has its own private balcony.
Owner's SUITE (67M² / 721FT²)
The largest suite on the river boasts a luxurious king-size bed, separate dressing and living areas, plus a big veranda with sun loungers as well as table and chairs. The spacious bathroom will spoil you with a freestanding tub as well as a monsoon shower and his-and-hers sinks. Other benefits will include a private guide, butler service, early morning tea and coffee, complimentary laundry and exclusive dining experiences.
Luxury SUITES (31-33m² / 334-356FT²)
These four suites have an indoor seating area with a pull-out sofa bed available to accommodate a third person. There is a private balcony with table and chairs, and the ensuite bathroom has a monsoon shower. Other perks include butler service, early morning tea and coffee, and complimentary laundry.
Deluxe suites (27-28m² / 291-301FT²)
Our 14 deluxe suites are the largest entry level cabins on the river with living space as well as either a double or twin beds, depending on preference. Each has a private balcony with outdoor chairs & table, and a separate en suite bathroom with monsoon shower. Two sets of interconnecting suites are available.
SUITES (27m² / 291²)
Our two suites with 27 sqm of living space have either double or twin beds, depending on your preference. Both suites have a separate en suite bathroom with monsoon shower, basin and separate toilet. The suites have individually controlled air conditioning and have open balconies.
For more detail: www.sanctuaryretreats.com