Myanmar Elephant Tour
Since Myanmar is rich in natural resources, the Elephant is also a treasure of Myanmar. The elephant is not only of great cultural and historical significance if Myanmar, but is also of major economic importance in the country's timber industry.


For the purpose of promoting ecotourism, The Ministry of Forestry has been working together with The Ministry of Hotel & Tourism.
Myanmar is still relying on natural forests for logging. Myanmar is one of a few countries using elephants for timber logging. This has led in making less damage to the forest eco-system as in the mechanical logging,
---
Pho Kyar Forest Resort
The Elephant Camp
Pho Kyar Forest Resort
Pho Kyar Forest Resort is situated at foot-hill of Bago Yoma mountain ranges, 10 miles away from Thargara, in the Swa forest reserved area. Drive about (160) miles north of Yangon along Yangon-Mandalay highway, follow the off-highway timber hauling earth road for about 25 miles west leading to the forest area and elephant camp.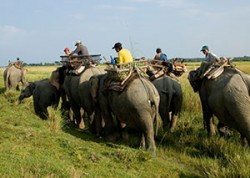 ---
The Elephant Camp
The area is one of the teak logging sites comprising many private owned working elephant camps. Usually, camps are selected on the bank of small streams where there is sufficient sunlight. All the buildings are built with bamboo and nearby of the camp, they store elephant dragging gears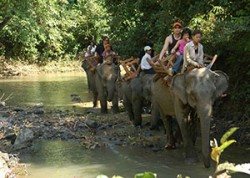 Season for Visit
The best season to visit is from December to March. The weather is dry and open during this period.
Important Note
Since the area is malaria infected, visitors need to take malaria preventive pills, one week before the trip and two weeks after coming back.
Green Hill Valley Elephant Camp
Green Hill Valley Elephant Camp is setting up a project in the Kalaw area which is focused on protecting the local ecology, elephants and traditions of the local people. Nature grows undisturbed in our private preserved, where we plan to include a Myanmar elephant camp. It offers the opportunity to learn about Mahouts and their Elephants, as well as seeing elephants in their retirement at their home land in nature.
In addition, 3-4 different treks have been created through the forest. Along the way, clients will be introduced to local village traditions and to the natural beauty of the surrounding forest. The area is known for fauna (birds, butterflies) and flora (orchids, teak and bamboo forest). Trekking programs range from easy to more strenuous.
The main purpose is to support and improve the health and education of the local villages. We also wish to maintain the natural environment by re-planting and conserving of the forest.
Note:
The Elephant Camp is not focus on demonstration, riding and circus things with our old aged and retired timber elephants.
Temperature in the summer time is very hot and we do not let our elephants be in the heat for washing in the river, as it is a part of our elephant activities with clients. (11:00 to 15:30 is not the time for elephant washing in summer).
Recommend bringing insect repellents. Anti-malaria precautions have been taken around our camp area.
Clients are recommended to wear long pants, long sleeved cotton shirts and good walking shoes. Sun screen is also suggested.
All safety precautions with the elephants have been taken. However, we do request you to follow the instruction of our respective escorts who accompany during our visit.
Requested to inform us in advance, if clients are not able to walk up and down between main camp and elephant village.
Recreational/Excursion
Nature of elephants in the forest
Elephants at work, dragging logs
Typical nature of an elephant camp, life of riders
Adventure trekking along the jungle trail
Study forest eco-system
See elephant utilities, bamboo products
Facilities
Bating in the stream/creek
Breakfast
Lunch/Dinner
---
Popular Destinations in Myanmar
Myanmar Cruise