Loikaw Trip
Since Myanmar has 135 distinct ethnic groups, this short excursion will take you to the home of Kayah, Gagbar, Kayan (Padaung), Ma Nu Ma Naw, Yin Baw, In Ta Le: LOIKAW. There, you will discover the breathtaking hill scenery, different tribal cultures, their beliefs in Spirit Guardian and their traditional costumes. The main attraction is to see the long neck Padaung women, ways of local life and their stunning plantations of crops, beans and etc. The Landmark of Loikaw; Taung Kwe Zeti (that has beautiful legend) will experience you the panoramic view of its city and surrounding mountains. Moreover, your scenic return boat trip will give you a chance to visit Sagar Village; a stopover visit after returning from Loikaw and it is famous for its ancient religious monuments which are ruined.



---
DAY 01: Yangon – Loikaw (by UB 109 9:15 – 10:05 – refrence flight only)
DAY 02: Pan Pet Excursion (Soft trekking)
DAY 03: Loikaw – Phekone – Sagar – Inle (by private Boat)
3 Days/ 2Nights
Yangon – Loikaw – Inle
Day 01 – Yangon – Loikaw (by UB 109 9:15 – 10:05 – reference flight only) – Meal(None)
In the morning, fly from Yangon to Loikaw; capita of Kayah State and still remain as an untouched attraction where you can observe traditional ways of life of Kayah national races. Upon arrival, our stationed guide will welcome and greet you. Then, transfer to the hotel for check-in.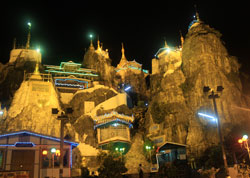 After refreshment, starting city tour and trying local foods like Kayah sausage and Hin Htoke. Then, visiting Kayah Museum to learn the tradition and culture of Kayah and minority. And then drive to Kayah village to visit Kayar House and learn their spiritual belief, after that going to the mysterious lake Htee Pwint Kan, and then proceed to enjoy panoramic and sunset view from hill of Taungkwe Zeti, it is a famous landmark of Loikaw. Return to hotel and overnight in Loikaw.
Note: Kayah Museum is closed on every Monday & Gazette holidays.
---
Day 02 – Pan Pet Excursion (Soft trekking) -Meals (B,L)
After Breakfast, drive to Padaung villages of Pan Pat. Padaung women, sometimes known as 'long-necked women' who traditionally wear a great many brass rings around their necks and ankles, starting from the age of six or seven, and added each year. The original purpose was to repel prospective kidnappers. Today only elderly women still wear these rings, as the younger generation no longer follows the tradition.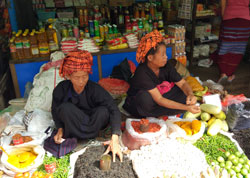 From the road an easy 45-minute walk on a track brings you to the first village where you'll see Padaung women. You can also continue another 45 minutes on foot to the next village, depending on the time available and your interest. Return to the car (1½ hours) and drive back to Loikaw and stop at the Ngwe Taung Dam on the way back. It is the landmark of Kayah State. After enjoying the panoramic view. Then, going to the famous place of Kayhtoeboe, to see the pillars for Kayah traditional festival, and to learn a part of their culture. Then back to hotel and overnight at Loikaw.
---
Day 03 – Loikaw – Phekone – Sagar – Inle (by private boat) – Meals (B)
After Breakfast, visiting morning market and drive to Phekone lake. From here, proceed by boat through Phekhone Lake encompassed by breathtaking and refreshing landscape along the Bilu Creek. On the way, visit Tha Khaung Pagoda, ancient religious monuments and ways of life of Shan, Pa O and Intha people in Sagar Village. After that, going to see Lotus weaving at Kyaingkham village and proceed to Inle Lake.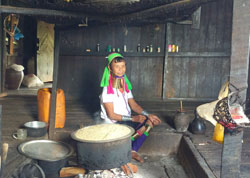 End of our services!
Service Includes
Accommodations with breakfast (Twin/Double Sharing Basic)
Full Board Meals
Transfer & sightseeing (with private A/C car)
Domestic airfares
Entrance fees
English speaking station guide fees
Boat fees for visit of Inle Lake & Loikaw – Sagar
Service Excludes
Visa fee for Myanmar
Beverages
International airport tax
Drinks, tips and personal expenses
Any other item not mentioned in service includes
---
Popular Destination in Myanmar
Myanmar Cruise