Yangon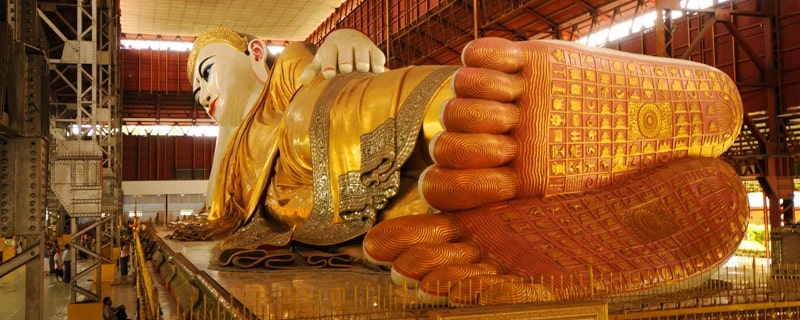 Yangon is the Capital city, the gateway to Myanmar ( Burma ) by air and sea. Ever green and cool with lush tropical trees, shady parks with beautiful blossoms and lakes. The City of Yangon ( Rangoon ) was once the cleanest city in Asia, some even exaggerated as the Queen of the Cities.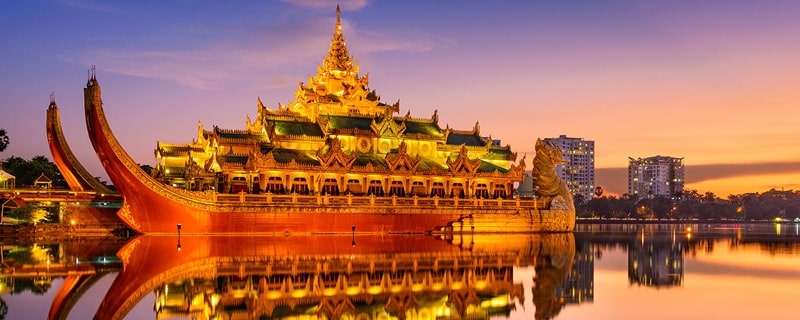 In the second Anglo-Myanmar war in 1852, lower Myanmar ( Burma ) was ceded to the British to be anglicized into Yangon and since then became the seat of government. Yangon city was modeled and implemented by Lieutenant Fraser of the British engineering corps, who had also drawn the city plan of Singapore.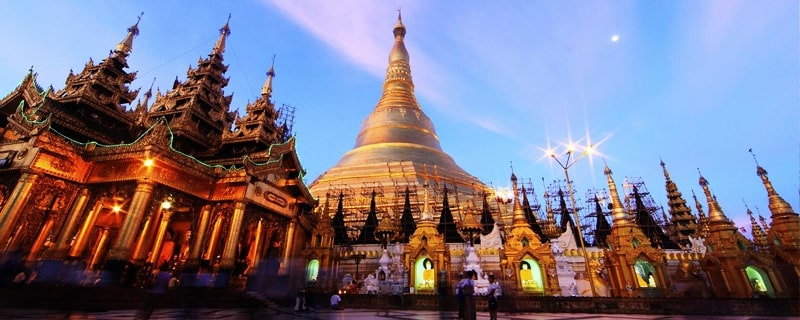 The pride of Yangon ( Rangoon ) is the world famous Shwedagon Pagoda, the landmark of Myanmar ( Burma ). The golden dome rises 98 meters above its base and is covered with 60 tons of pure gold. The magnificent glory, sanctity and serenity of the Shwedagon Pagoda must be seen and felt rather than by words.
---
Shwedagon Pagoda
Towering almost 100 meters above the green city-scape of Yangon, the Shwedagon Pagoda is the prominent landmark visible from miles around. It is one of the wonders of the world, and it is believed to have been built more than 2500 years ago. It is the essence of Myanmar and being a place that never fails to enchant.
A visit to Yangon is incomplete without a visit to Shwedagon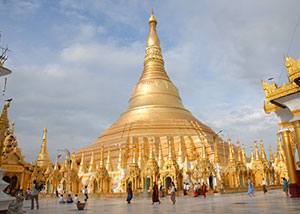 Yangon & Surrounding
Kyaikhtiyo (Golden Rock) Pagoda
It is the largest domestic tourism centre located about 160 km from Yangon. It stands on a gilded boulder precariously perched on the edge of the hill over 3615 feet above sea-level. There are many legends about the pagoda and Nat (Spirit Gods) shrines along the way from the base camp to the pagoda. There is also a popular belief that a person gains in wealth every time he climbs the hill.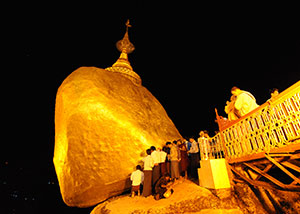 It is a test of one's endurance and is very exhilarating once a person has reached the summit. Kyaikhto Hotel located on the hill side is in full view of the pagoda. The season of pilgrimage is from October to May. Coaches can now reach upto the platform of the pagoda. It can also reached by trekking from the base camp. Porters and palanquins are available to carry luggage and pilgrims who are too old or weak.
Myanmar Cruise
Our Popular Tour Packages
Describe here popular tours
---
---