Anawrahta
HERITAGE LINE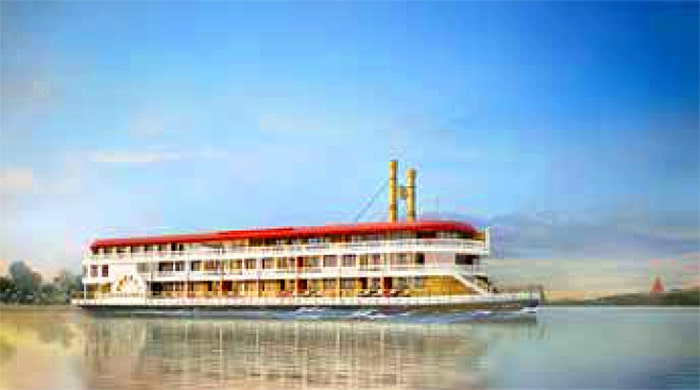 Heritage Line, a consummate collector of classic ships, designs vessels that evoke the glamor of bygone eras. Each of our ships is unique in its design and inspiration. Every detail is painstakingly recreated to remake history. Authenticity, tradition, artistry, and exploration are at the heart of what we do. Join us on a voyage of discovery!
---
The Great King
With the largest cabin space on the Ayeyarwady and the highest crew to passenger ratio, The Anawrahta offers the finest onboard experience in Myanmar. This impressive vessel is named after the founder of the Burmese nation, modern-day Myanmar. During his reign, from 1044-1077, he introduced and spread the religion of Theravada Buddhism throughout the land.
King Anawrahta was born in 1014. His mother was Myaunk Pyinthe and his father, King Kuhshaw Kyaunghpyu was once the ruler of Pagan. His father was overthrown by his stepbrothers, Kyiso and Sokkate. Anawrahta upon coming of age and learning the betrayal of his father challenged Sokkate to a duel and won, bringing back the crown to their family. King Anawrahta made Pagan the capital city of Burma, modern-day Myanmar, he described it as the "city of a thousand temples" because of the numerous structures, temples, and pagodas built around the city. King Anawrahta converted to Theravada Buddhism, the oldest and most traditional school of Buddhism that focuses on "the teaching of the Elders."
Blending the purity and serenity of King Anawrahta's Buddhist beliefs with the opulence of the British Empire, The Anawrahta is the perfect vessel on which to explore Myanmar's mighty Ayeyarwady River. Built to resemble a British colonial paddle steamer, the elegant 65-meter/ 214 feet long Anawrahta features three spacious decks and 23 luxurious cabins. With its gleaming white rails, polished lacquer, intricately carved woodwork and shining brass, The Anawrahta takes guests back in time to an era of bygone elegance.
ANAWRAHTA
Technical figures
| | |
| --- | --- |
| Built | 2015 |
| Port of | Yangon / Myanmar, and other Ayeyarwady river ports depending on season |
| Embarkation Cruising Area | Ayeyarwady River and Chindwin River |
| Vessel'sRegistry | Myanmar |
| Type of Vessel | River Cruiser |
| Length | 65 meters / 213 feet |
| Beam | 14 meters / 45 feet |
| Draft | 0.9 meters / 3 feet |
| Gross Tonnage | 650 tons |
| Cruising speed | 12 knots |
| Electricity | 220 Volts |
| Engines | 2 Caterpillar |
| Generators | 3 Caterpillar |
| Water | Reverse osmosis plant with UV filtration and ozone treatment |
| AC | Centralized air-conditioning system throughout the vessel, individual control in each cabin |
| Laundary | Full laundry service on board |
| Internet | Wifi-internet in public areas, connectivity depending on 3G coverage |
| Safety | International safety standard, including smoke and fire alarm system throughout the ship, emergency lighting systems, emergency communication system, evacuation equipment, Defibrillator (AED) on board, crew is trained on first aid |
| Crew | 38 crew members, including Cruise manager and English speaking guides |
| Accommodation | 46 Passengers |