Myanmar Bus Transportation
If you are looking for budget trip or would like to try the overland trip (but do not want to pay for private car), traveling by bus is fun and interesting.way.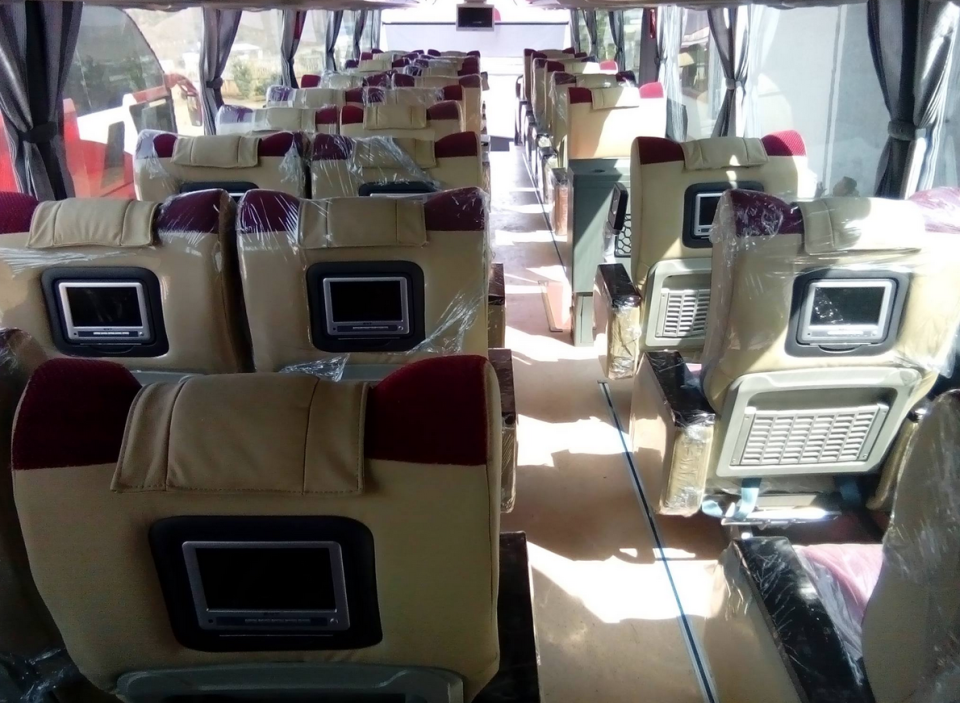 Very modern and Comfortable luxury buses are available now in major cities of Myanmar especially in Yangon, Mandalay, Bagan and NyaungShwe (Inle Lake). There are different levels of luxury as VIP Buses having reclining seats and 2+1 seating while Noramal Buses having 2+2 seating.
Cost is around 11000ks to 24000ks depending on your journey and operating companies.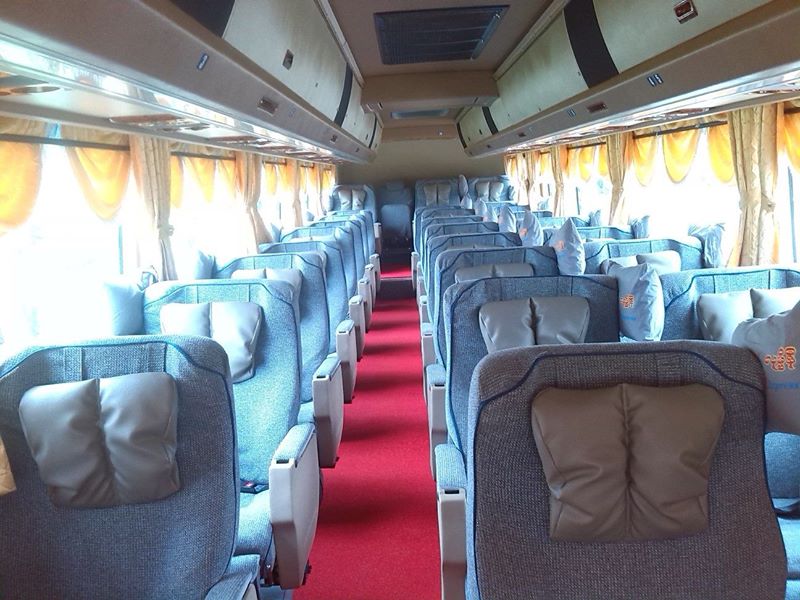 Important Notes:
Prices and schedules are subject to changed. So, please contact us for accurate information.
Bus-Tickets can be bought locally after you arrive. Or you can make secured booking with us for peace of mind.
Most of the buses operate over nightso you save one night's hotel charges.
Good amenities like drinking water, snacks box, light drink, blanket, wet tissue and bus attendant service are provided in VIP buses while Normal buses provides standard amenities like drinking water, wet tissue, and blanket.
As for personal items, bring warm clothes because some air conditions are too cold so blanket alone cannot make you warm enough for a good sleep
There are no toilet on the bus, but you will have frequent toilet stops.
Toilet paper is also essential as some toilets don't provide this.
If you have onward journey, we recommend not to plan on the same day because buses can be delayed anytime.
Schedules for some buses in major destinations
Departure Station : Aung Mingalar
Arrival Station : NyaungOo Gate

Departure Station : NyaungOo Gate
Arrival Station : Aung Mingalar

Departure Station : Aung Mingalar
Arrival Station : KyweSel Kan

Departure Station : KyweSel Kan
Arrival Station : Aung Mingalar

Departure Station : Aung Mingalar
Arrival Station : Aye Thar Yar

Departure Station : Aye Thar Yar
Arrival Station : Aung Mingalar

Departure Station : Aung Mingalar
Arrival Station : Myo Ma Zay , Baw Ga Thiri

Departure Station : Myo Ma Zay , Baw Ga Thiri
Arrival Station : Aung Mingalar

Departure Station : KywelSel Kan
Arrival Station : Aye Thar Yar

Departure Station : Aye Thar Yar
Arrival Station : KywelSel Kan

Departure Station : Nyaung U Gate
Arrival Station : NyaungShwe Bus Stop

Departure Station : NyaungShwe Bus Stop
Arrival Station : Nyaung U Gate

Departure Station : Aung Mingalar
Arrival Station : Mawlamyine Bus Stop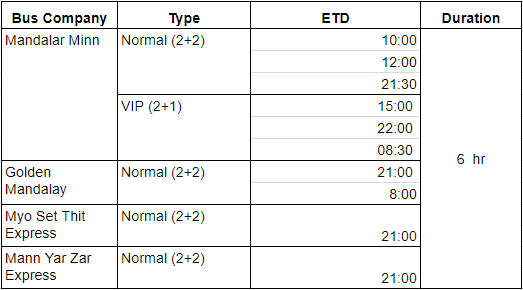 Departure Station : Mawlamyine Bus Stop
Arrival Station : Aung Mingalar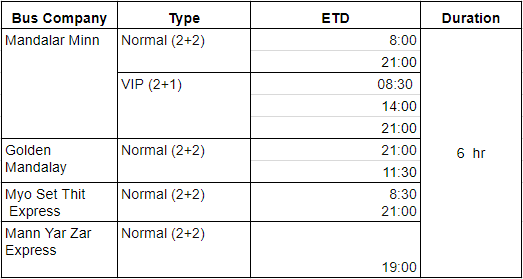 Departure Station : Aung Mingalar
Arrival Station : Hpa An Gate

Departure Station : Aung Mingalar
Arrival Station : Dawei Gate

Departure Station : Dawei Gate
Arrival Station : Aung Mingalar

Departure Station : Aung Mingalar
Arrival Station : Loi Kaw Gate

Departure Station : Loi Kaw Gate
Arrival Station : Aung Mingalar

Departure Station : Kywe Sel Kan
Arrival Station : Loi Kaw Gate
| | | | |
| --- | --- | --- | --- |
| Bus Company | Type | ETD | Duration |
| Thein Than Gaday | Normal (2+2) | 18:00 | 13 hr |
Departure Station : Loi Kaw Gate
Arrival Station : Kywe Sel Kan
| | | | |
| --- | --- | --- | --- |
| Bus Company | Type | ETD | Duration |
| Thein Than Gaday | Normal (2+2) | 18:00 | 13 hr |
Departure Station : Aye Thar Yar
Arrival Station : Loi Kaw Gate
| | | | |
| --- | --- | --- | --- |
| Bus Company | Type | ETD | Duration |
| Shwe Pa Oah | | | 5 hr |
Departure Station : Loi Kaw Gate
Arrival Station : Aye Thar Yar
| | | | |
| --- | --- | --- | --- |
| Bus Company | Type | ETD | Duration |
| Shwe Pa Oah | | | 5 hr |
Popular Destinations in Myanmar
Myanmar Cruise