Myanmar Traditional Wedding Ceremony at the Monastery


---
DAY 01: ARRIVAL YANGON
DAY 02: Wedding at the Monastery
DAY 03: Yangon Sightseenig
DAY 04: Departure
Day 01. ARRIVAL YANGON
Arrive at Yangon Airport and Columbus guide will pick up you on your arrival. Transfer to airport and check in hotel. Then, our guide will assist you to prepare for the wedding procedure.
Half day sightseeing in Yangon.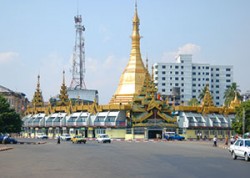 Visiting highlighs in Yangon :Sule Pagoda, Maha Bandoola Park with Independence Monument, located at the heart of the city, Chaukhtatgyi reclining Buddha image and the 2,500 years old magnificent Shwedagon Pagoda sheathed in 11 tons of pure gold and 4,350 diamonds weighing 1800 carats! At sunset, the Shwedagon offers visitor a spectacular show of lights and shadows. Lunch & Dinner at the local restaurant and Overnight at the hotel. Meals; (L/D)
---
Day 02. Wedding at the Monastery
Breakfast at the hotel. Transfer to the Monastery where Wedding reception will be held On Auspicious occasions, the couple & gathering Offer Food & Alms to the Buddhist Monk for Lunch. The Sanghas recite the charm to ensure good luck & happiness for newlyweds. Sanghas deliver the sermons to the gathering, blessing the newlyweds and sharing their meritorious deeds.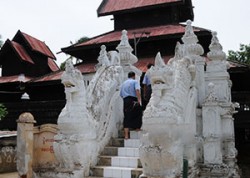 It is a joyous and auspicious occasion for the newly-weds to begin their family life eternally in accord with Myanmar tradition. And it has become the solemn duty of the newly-weds to enrich human society as a wedded couple. They surely will enrich Myanmar way of life.
After having lunch at the monastery, you will be transferred to the hotel.
Free and relax until evening sunset cruise on Yangon River. Dinner on the Cruise and enjoy the sunset of Yangon. Evening transfer to hotel and Overnight at the hotel.
Meals; L/D
---
Day 03. Yangon Sightseenig
Breakfast at the hotel.Morning visit to some major highlights like Gaba Aye ( World Peace ) pagoda and Mahapasana Cave.
Visits to Bogyoke ( Scott ) Market, a famous shopping centre of Yangon.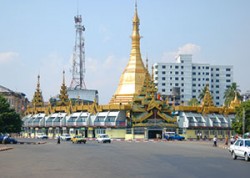 Evening proceed to China Town, the evening market, selling various kinds of food, fruits and products. Overnight at the Hotel. Meals (B/L/D)
---
Day 04. Departure
Breakfast at the hotel. Transfer to the airport for International flights, (B)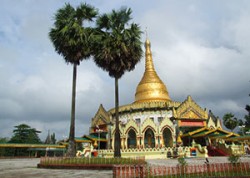 ---
Popular Destinations in Myanmar
Myanmar Cruise