RV Paukan 2012
The latest member of the Paukan Cruises family under the management of the Ayravata Cruise Company is the RV Paukan 2012 which was launched in September of 2012.
ON BOARD
Paukan 2012 is a gem of a vessel, a compact but elegant vessel made of teak with a hull of marine steel. The walls and floors are of timber with each plank carefully chosen to show off the beautiful grain. The décor is modern chic, with a touch of Myanmar culture through a few traditional motifs, wooden figures, fabrics and paintings.
There are 18 cabins, twin and double, with attached bathrooms for a total of 34 passengers.All the cabins are nicely decorated and comfortable with ensuite bathrooms.
The best view of the river can be enjoyed in the two 'Premier' cabins on the upper deck, each with French windows on two sides, leading out to a spacious balcony. The six Double Deluxe cabins on the upper deck have a balcony, a French window the eight Twin Deluxe cabins on the main deck. With the drapes pulled aside, there lay in front of your eyes the amazing the view of the river as it changes moods during different times of the day. There are also two single cabins on the upper deck.
The dining room with a capacity for 34 is a spacious hall on the main deck where every morning a lavish and scrumptious breakfast buffet is served. The other meals a blend of Western and Myanmar cuisine are prepared with loving care for freshness and tastes by experienced chefs, Lunch is a buffet and Dinner is Table d'hôte. The lounge on the upper deck seats 16 and the open deck with a well-stocked bar leading out from it seats 15. The lounge is arranged and decorated tastefully with comfortable chairs, for groups of several people or in a more intimate setting.
The solarium on the roof deck is the best place to enjoy an evening drink as the sun sets with a backdrop of the sky's spectacular display of colours.
---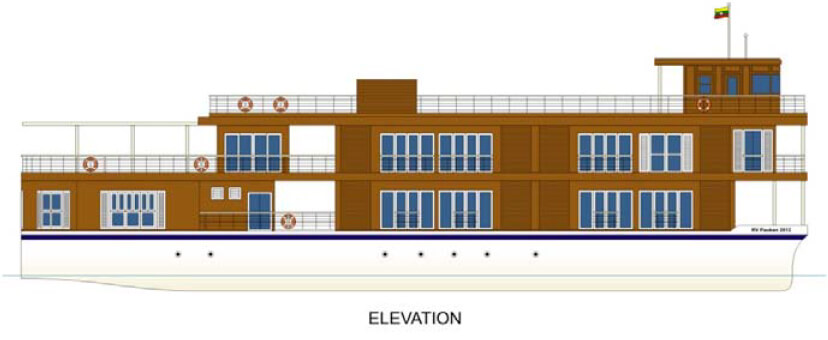 ---
SPECIFICATIONS
BUILT IN THE 2012 BY AYRAVATA CRUISES AT AHLONE SHIPYARD (YANGON-MYANMAR)
| | |
| --- | --- |
| HULL | MARINE STEEL |
| LENGTH | 138 FT (42 MT) |
| BEAM | 32.8 FT (10 MT) |
| DESIGN DRAFT | 2.5 FT (0.76 MT) |
| DECKS | 3 |
| DIESEL ENGINES | 2 X 275 HP CUMMINS MARINE / MODEL NT855-M270 |
| PROPULSION | RUDDER PROPELLER INBOARD WELL MOUNTED |
| DESIGN SPEED | 9 KNOTS |
| MAX. UPSTREAM SPEED | 6 NAUTICAL MILES PER HOUR (DRY SEASON) |
| MAX. DOWNSTREAM SPEED | 11 NAUTICAL MILES PER HOUR (DRY SEASON) |
| NAVIGATION | NAVIGATION LIGHTS, SHIPS HORN, SEARCHLIGHT |
| COMMS | GSM PHONE, INTERNAL PHONE SYSTEM, TANNOY FOR NAVIGATION |
| GENERATORS | 2 X 120 KVA +1 X 40 KVA CUMMINS/MARATHON MARINE |
| FIRE PROTECTION | SMOKE DETECTORS, HEAT DETECTORS, MANUAL ALARMS STATIONS, FIRE EXTINGUISHERS, FIRE HOSE CABINETS, FIRE PUMPS |
| SAFETY | EMERGENCY LIGHTS, EMERGENCY GENSET, LIFE JACKETS, LIFE RAFTS |
| CREW | 25 |
---
Hotel
PASSENGERS – 34
CABINS -> 18 WITH PRIVATE BATHROOM
UPPER DECK
6 DOUBLE DELUXE WITH BALCONY * 25 SQ.MT / 270 SQ. FT
2 PREMIER WITH BALCONY : 25 SQ.MT / 270 SQ. FT.
2 SINGLE : 10 SQ.MT / 107 SQ. FT..
MAIN DECK
8 TWIN DELUXE WITH FRENCH BALCONY * 23 SQ.MT./250 SQ. FT.
LOWER DECK
2 SINGLE FOR GUIDES/TL: 8 SQ MT / 86 SQ. FT.
DINING ROOM -> ON THE MAIN DECK (CAPACITY: 34 SEATS)
LOUNGE & BAR -> ON THE UPPER DECK (CAPACITY 16 SEATS INDOOR AND 15 OUTDOOR), SOLARIUM ON SUN / ROOF DECK (CAPACITY: 16 SUN CHAIRS)
WATER -> DESEDIMENTATION AND FULL WATER TREATMENT – REVERSE OSMOSIS SYSTEM FOR THE KITCHEN
Popular Destinations in Myanmar