Princess Royal River Cruise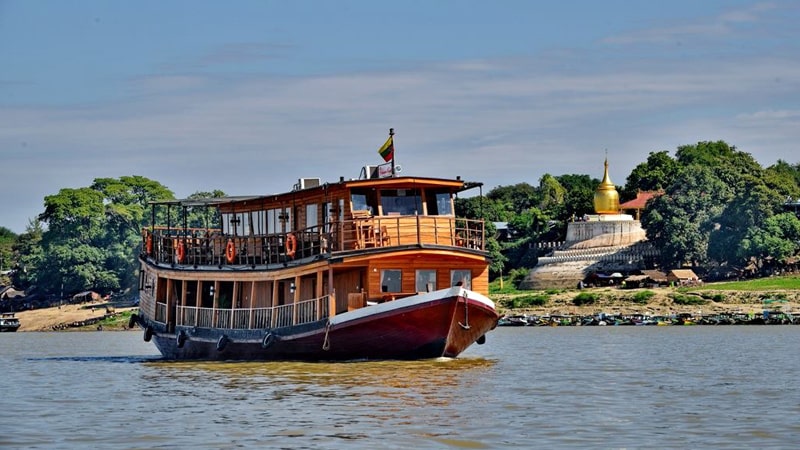 ---
Princess Royal is a beautiful small boutique boat which consists of five Standard rooms on the main deck and a large Deluxe room on the sundeck. A variety of European and Asian dishes are available on board, all of which have been hygienically prepared by our experienced chef. Also available is a wide selection of alcoholic and non-alcoholic beverages from our bar until midnight. In the case of emergency on the cruise, you will also be able to note our international-standard safety system.
With our small capacity of only 12 passengers on the cruise at one time you will receive a better in-depth experience and more personal service. This personal service can be taken in further during our sandbank dinner and cocktail over a serene sunset as well as while having picnic lunches at small villages, throughout your journey, where you will obtain remarkable experiences that will last you your lifetime.
A setting in which you can forget about the stresses of life; that is like nothing you have ever seen before. Where the timeless pagoda's, as well as the tales of king's and queen's of past, will inspire the sense that you are cruising through time.
The team here at our luxury cruise Princess Royal warmly invites you to come aboard our cruise and soak up scenery which will enchant you and take you to a whole different time. Our team on board is formed with knowledgeable and highly experienced members who have local and international experiences. Our cruise boat has the unique feature wherein you have a view from both sides of your cabin, one side even including your own balcony to enhance your experience.
---
Technical Data
| | |
| --- | --- |
| Length | 93 Feet 9 inches |
| Beam | 25 Feet |
| Design Draft | 6 Feet |
| Deck | 2 |
| Diesel Engine | 2 x 180 HP, Mitsubishi – 6 T 22 |
| Design Speed | 10 Knots |
| Max Upriver Speed | 8 Nautical Miles Per Hour ( Dry Season) |
| Max Downriver Speed | 12 Nautical Miles Per Hour ( Dry Season) |
| Navigation | Navigation Lights, Ship Horn |
| Communication | CDMA Phone, VHF Radio |
| Generators | 20 Kva( Danyo)+ 15 Kva for Emergency |
| Fire Protections | Fire Extinguishers, Fire Hose Cabinets, Fire Hydrant, Fire Pump |
| Safety | Life Jackets, Life Raft, Life Boat |
| Crew | 13 |
---
Facilities
Passengers – 12
Cabins – 7 With Private Bathroom and Shower
Sun Deck – 1 Deluxe (Double /Twin)
Main Deck – 6 Superior (Double /Twin)
Lounge & Bar on the Sundeck / Solarium (Capacity : 14 Seats)
Ship Plan


Popular Destinations in Myanmar