RV Yandabo River Cruise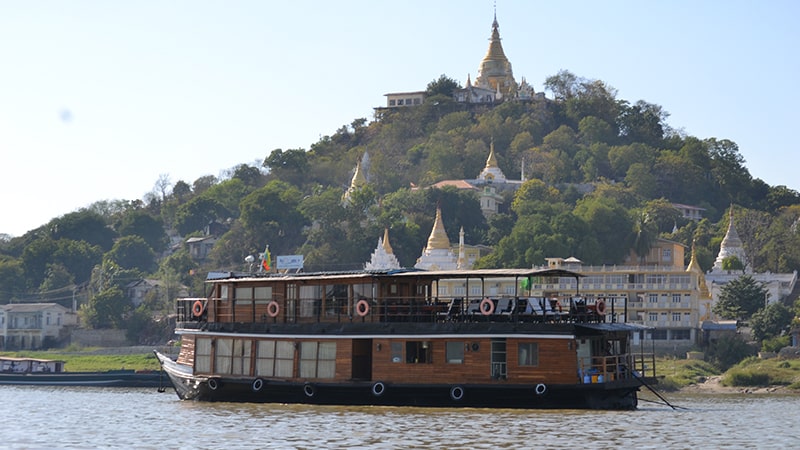 ---
The RV Yandabo is a small luxury cruise ship and proudly cruising between Mandalay and Bagan on Ayeyarwaddy River. She will offer you to enjoy extraordinary high-standard service. Yandabo provides for your cruising pleasure with air-conditioned dining room, bathrooms with shower attached. Delicious meals; Chinese, Local and Western dishes are prepared by our experienced chef and many kinds of drinks, tropical fruit cocktails are available at promenade deck bar.
Yandabo is the name of beautiful pottery village, Historically recognized for the signing of the Yandabo Treaty which took place under a tree on the riverbank in 1826, between the British and Royal Burmese House-hold of Ava. The Yandabo is built for passenger's safety and comfort as a beautiful design in the promenade and fine dining room. We would like to give you the best of service when you are cruising with us.
Travelling within Ayeyarwaddy River
Big rivers are very useful not only for agriculture but also for transport and communication. Waterways are being used as means of transportation for both cargos and traveling people since a very long time ago. The Irrawaddy (Ayeyarwaddy) river from south to north up to 1500 kilometers is used for ships and boats (upstream and downstream) for transportation throughout the year.
Approximately 792 kilometers in Chindwin, 177 kilometers in Kaladan, 80 kilometers in the Salween (Thanlwin) can be used for transportation. If you visit the place in the summer, you can also view beautiful blue mountain ranges from the other side of the river than seeing the cool and clear water of the river and white sand dunes. There are also small villages around the region. As the Irrawaddy (Ayeyarwaddy) is flowing down alongside the motorway, you can see the river at many places. Ethnic Shan, Kachin, and Burma (Bamar) people are living together harmoniously in villages along the motorway.
---
Technical Data
| | |
| --- | --- |
| Length | 84 Feet,(24.6) Meter |
| Beam | 20 Feet (6) Meter |
| Design | Draft 2.5 Feet (0.8) Meter |
| Deck | 2 |
| Diesel | Engine 1 x 160 HP, Nissan Diesel, Model : PD 6-113856 |
| Design | Speed 8 Knots |
| Max Upriver Speed | 6 Nautical Miles Per Hour (Dry Season) |
| Max Downriver Speed | 10 Nautical Miles Per Hour (Dry Season) |
| Navigation | Navigation Lights, Ship Horn, Search Light, |
| Communication | GSM & CDMA Phone, VHF Radio |
| Generators | 1x25Kva + 1×15 Kva for emergency |
| Fire Protections | Fire Extinguishers, Fire Hose Cabinets, Portable Fire Pump |
| Safety | Emergency Lights, Emergency Gen-set,Life Jackets, Rigid Floating Device, Rescues Speed Boat |
| Crew | 13 |
Ship Plan


Popular Tour
Describe Here trekking/hiking Tour
Popular Destinations in Myanmar